Let's set the scene. You're flipping through glossy boudoir portfolios, but something's missing—where's the diversity? Boudoir isn't one-size-fits-all, and it's time we dive into the world of plus-size boudoir photography.
Why Plus-Size Boudoir Photography is More Than Just a Trend
Hey, let's get one thing straight. Plus-size boudoir is not a niche or a trend—it's a revolution. And why not? Confidence knows no size, darling. From sultry looks to soft aesthetics, boudoir for plus-size individuals adds an extra layer of beauty to the photography sphere. Why's it booming? Simple. It's about visibility, representation, and kicking stereotypes in the butt. Remember, boudoir photography is all about celebrating you, in all your glory. Your body is not an obstacle; it's your canvas.
Representation Matters: People want to see models that look like them.
Destroying Stereotypes: Boudoir is for everyone, not just the size zeros.
Confidence Boost: Nothing like a stunning photo to make you feel like a million bucks.
You might be thinking, "Okay, but how do I prepare for such a shoot?" Well, look no further! We've got a comprehensive guide on planning your shoot.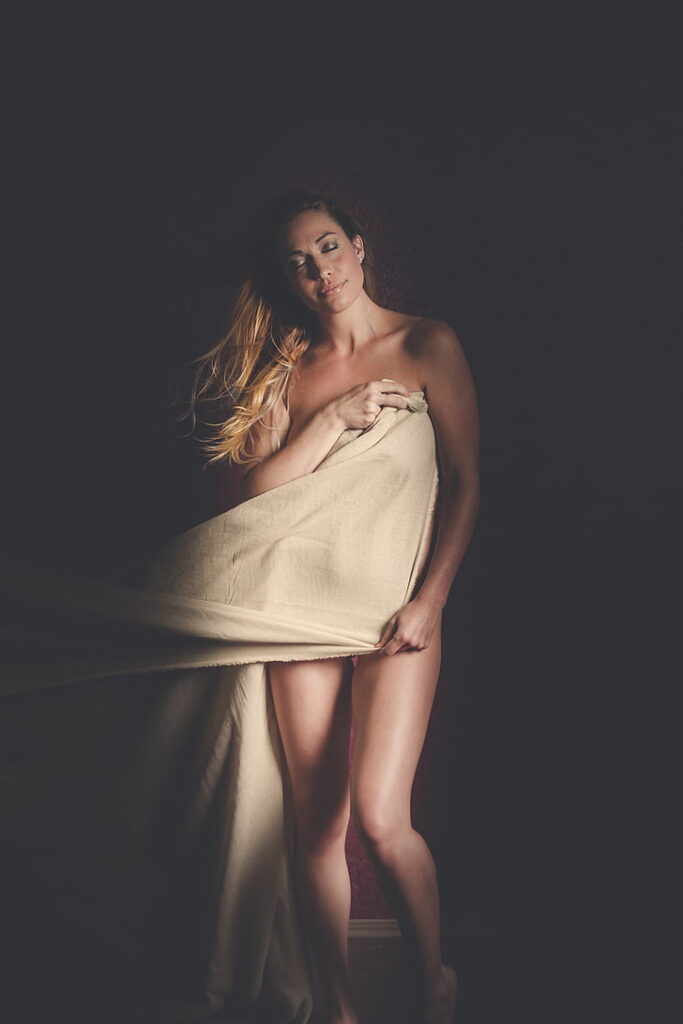 Table of Contents
Introduction: Why Plus-Size Boudoir Photography is a Must

What is Plus-Size Boudoir Photography?
The Growing Trend: Breaking Stereotypes
What to Expect from This Guide

Choosing the Right Photographer

Qualities to Look For
The Question of Comfort
Where to Find Plus-Size Boudoir Photographers

The Cost Factor: How Much Will It Set You Back?

The Price Range
What's Included in the Package?
How to Budget for Your Shoot

DIY or Die Trying: Navigating the World of DIY Plus-Size Boudoir Photography

The DIY Toolkit: What You'll Need
Finding the Right Pose: DIY Plus-Size Boudoir Posing Tips
Let's Get Snappy: Actual Steps to Take Your Own Photos

What to Wear and What Not to Wear

Wardrobe Choices: A Comprehensive Guide
Pro Tips on Highlighting Your Best Features
Prepping Your Outfits

Prepping for the Big Day

Hair and Makeup: DIY vs. Professional
The Countdown: A Week-by-Week Checklist
Mental Preparation: Building Confidence

The Actual Shoot: A Behind-the-Scenes Look

The Arrival: What Happens When You Get There
During the Shoot: What to Expect
Post-Shoot: The Unveiling of Photos

Post-Processing and Deliverables

How Long Will It Take?
What You'll Receive
Additional Costs: Albums, Prints, and More

Wrapping It Up: Your Journey into Plus-Size Boudoir Photography

Key Takeaways: A Cheat Sheet for Your Boudoir Adventure

FAQs: Frequently Asked Questions

How do I prepare for a plus-size boudoir shoot?
Can I bring someone with me?
How do I find a plus-size friendly boudoir photographer near me?

Final Thoughts and Resources

Additional Readings and Recommendations
Your Next Steps: Make it Happen!
Feel free to skip to the sections that are most relevant to you, or buckle up for the full joyride through the landscape of plus-size boudoir photography!
Best Plus-Size Boudoir Poses to Own That Shoot
Posing can be nerve-wracking, especially if you're new to the boudoir game. But don't sweat it. There are plenty of plus-size boudoir poses to flaunt what you got! Here's the inside scoop:
Table of Plus-Size Boudoir Poses
| Pose | Description | Best For |
| --- | --- | --- |
| The Reclined Beauty | Lying down, propped on one elbow | Highlighting curves |
| The Goddess Stand | Hands on hips, weight shifted to one side | Full-body shots |
| The Sensual Sit | Legs crossed, leaning slightly forward | Accentuating hips and thighs |
See what we did there? No awkward twists or human pretzels. Just pure, unfiltered glam. Want more? Get your posing game on point with our dedicated guide on boudoir poses.
Finding the Right Plus-Size Boudoir Photographer
Yeah, it's a thing! Not all photographers are equal when it comes to capturing plus-size beauty. So, what should you look for in a plus-size boudoir photographer?
Experience: Do they have a portfolio of plus-size clients?
Comfort Level: Do you vibe well together?
Body Positivity: Are they tuned into the beauty of diverse bodies?
Where do you find such gems, you ask? It's not like they grow on trees. Or do they? Dive into our photographer near you page to find your perfect match.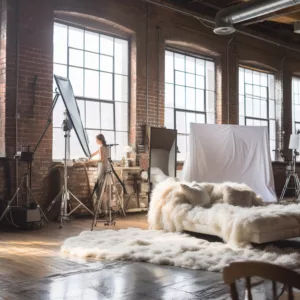 32 Expert Photographers Who Celebrate Plus Size Boudoir
Body diversity is finally getting the spotlight it deserves, and plus-size boudoir photography is leading the charge. But let's be real: the photographer you choose can make or break your experience. So, we've expanded our list to feature 32 expert photographers from the United States, the United Kingdom, and Australia. These artists are not just photographers; they're magicians with a lens, capturing your beauty in its most authentic form. Let's get to know them!
United States
Stephanie Wells, based in Pittsburg, brings a fine art touch to boudoir. Her mastery of light and shadow transforms each photo into a work of art that captures not just your body, but your soul.
Also from California, Lindsay Carlisle creates a safe space for all body types. She understands the vulnerabilities that come with a boudoir session and ensures you're comfortable and confident throughout the shoot.
Stacie Frazier, a Las Vegas native, adds a unique Sin City flair to your photos. She's a pioneer in the Vegas boudoir scene and knows how to make each shot sizzle.
Jen Rozenbaum is a New York-based powerhouse who focuses on women's empowerment. She's not just snapping photos; she's capturing your essence, making you feel like the goddess you are.
Los Angeles-based Michael Sasser offers a male perspective, blending sensuality and strength in his shots. His work is a unique take on the boudoir genre.
Based in Pennsylvania, Shannon Hemauer specializes in contemporary portraiture and boudoir for women. She focuses on capturing the real you, making her an excellent choice for authentic representation.
Mell Bell, located in South Carolina, brings a Southern charm to her boudoir sessions. Her work is all about celebrating you, making each session a unique experience.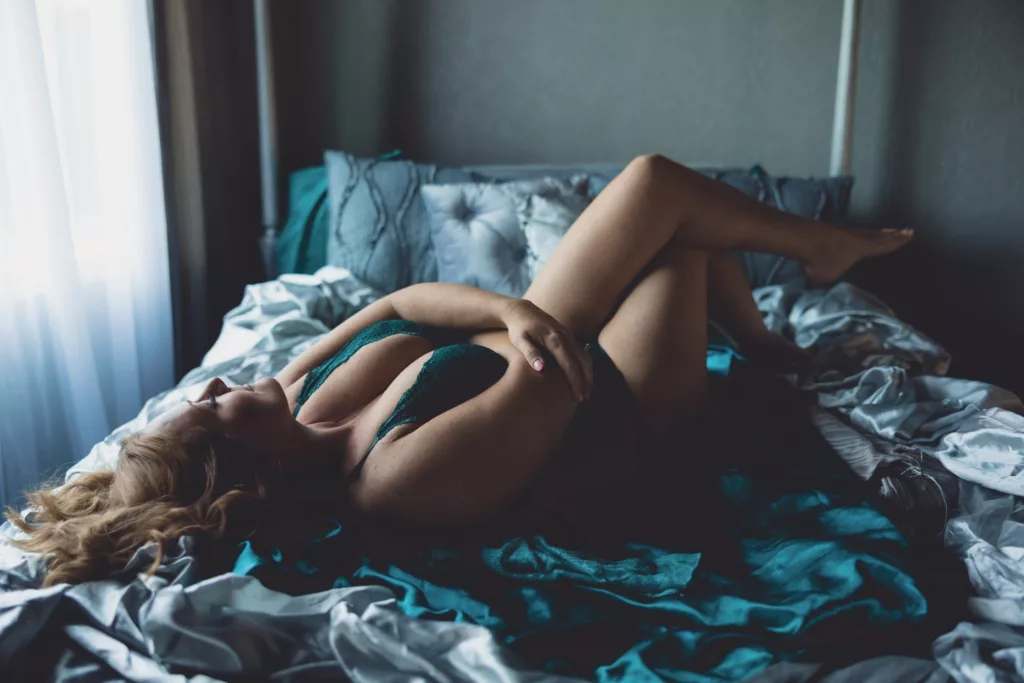 Arizona-based Luela Kaba is known for her maternity and motherhood boudoir sessions. Her work is a celebration of life and femininity, making her an excellent choice for those looking to capture these special moments.
United States Photographer Highlights
| Photographer | Location | Unique Factor |
| --- | --- | --- |
| Jen Rozenbaum | New York | Women's Empowerment |
| Stephanie Wells | Pittsburg | Fine Art Approach |
| Lindsay Carlisle | California | Inclusive Space |
| Stacie Frazier | Las Vegas | Vegas Flair |
| Michael Sasser | Los Angeles | Male Perspective |
| Shannon Hemauer | Pennsylvania | Authenticity |
| Mell Bell | South Carolina | Southern Charm |
| Luela Kaba | Arizona | Maternity Focus |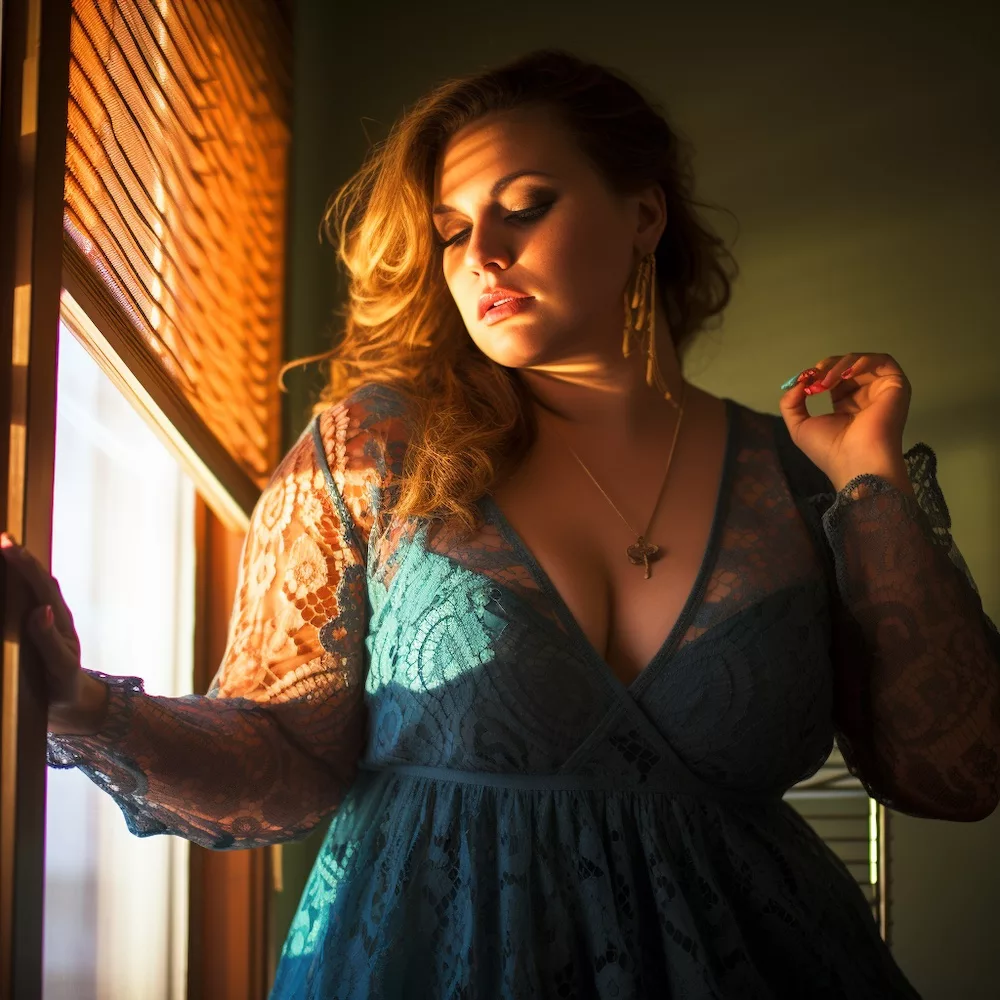 United Kingdom
Tigz Rice is an award-winning boudoir photographer based in the UK who specializes in vintage glamour. Her work is a throwback to the golden age of Hollywood, but with a modern twist that celebrates body diversity.
Sarah Williams
Sarah Williams, based in the UK, has a knack for capturing natural light in a way that adds an ethereal quality to her photos. Her focus on using the elements around her to enhance the beauty of her subjects makes her an excellent choice for those looking for a more natural and organic boudoir experience.
Anna Fowler brings a high-end editorial feel to boudoir photography. With a background in fashion photography, Anna knows how to make every shot magazine-worthy.
Faye Yerbury is a Scottish photographer known for her timeless and elegant style. Her work is deeply rooted in classical art, making each photo feel like a masterpiece.
Also part of the Yerbury Studio, Trevor brings a male perspective to the art of boudoir. His work complements Faye's, offering a comprehensive experience that captures both the feminine and masculine aspects of boudoir.
Mikaela Morgan focuses on creating a luxurious experience for her clients. Based in the UK, her work is all about capturing the essence of the woman in front of her lens, making each session a unique and empowering experience.
Alexandra Burns, based in London, specializes in intimate portraiture. Her work is a celebration of femininity and strength, making her an excellent choice for a plus-size boudoir session.
Why Choose a UK Photographer?
Vintage Glamour
Ethereal Natural Light
High-End Editorial Feel
Timeless Elegance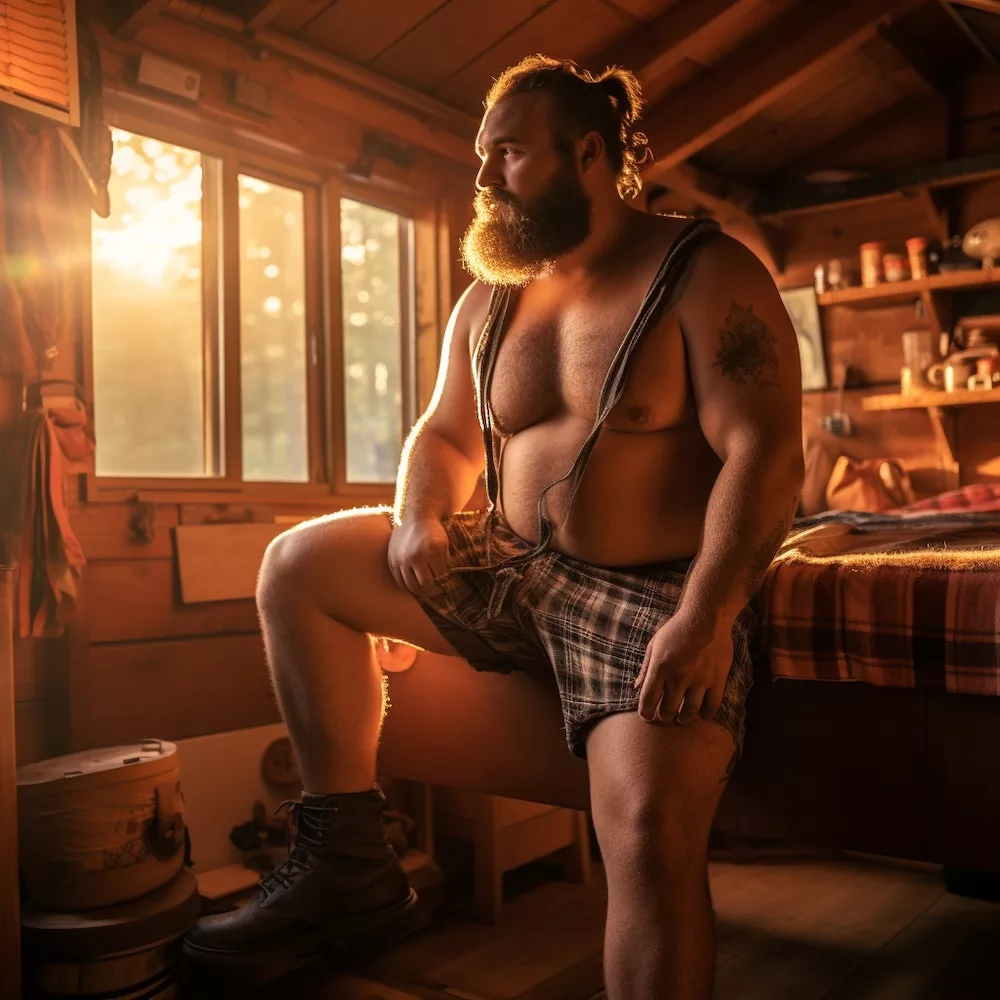 Australia
Simona Janek is renowned for her meticulous attention to detail. Every shot is carefully planned to ensure it's picture-perfect, from the lighting to the pose.
Angela McConnell brings a unique documentary style to boudoir photography. Her approach is about capturing candid moments that reveal your true self.
Blush Creative, a Melbourne-based studio, offers a full-service experience that includes a glam squad to make you feel like a celebrity.
Nicole Reed, based in Melbourne, is known for her artistic approach to photography. Her work is a blend of fine art and boudoir, making each photo a unique piece of art.
Wendy Maley, located in Brisbane, specializes in creating a luxurious boudoir experience. Her work is all about making you feel pampered and beautiful, from start to finish.
Jess Leigh, based in Sydney, focuses on capturing the raw and natural beauty of her subjects. Her work is deeply personal and authentic, making her an excellent choice for those looking for an unfiltered boudoir experience.
Kate Heussler, also based in Sydney, is known for her vibrant and dynamic style. Her work is a celebration of life and color, making her an excellent choice for those looking to add a splash of vibrancy to their boudoir session.
Quick Tips for Choosing an Aussie Photographer
Review their portfolio for style compatibility.
Ask
about additional services like makeup and styling. 3. Consider their approach to capturing authentic moments.
Check for any specializations, such as maternity or fine art, that may align with your vision.
Australian Photographer Highlights
| Photographer | Location | Unique Factor |
| --- | --- | --- |
| Simona Janek | Melbourne | Attention to Detail |
| Angela McConnell | Melbourne | Documentary Style |
| Blush Creative | Melbourne | Full-Service Glam Squad |
| Nicole Reed | Melbourne | Artistic Approach |
| Wendy Maley | Brisbane | Luxurious Experience |
| Jess Leigh | Sydney | Raw Authenticity |
| Kate Heussler | Sydney | Vibrant Style |
---
There you have it—32 expert photographers across the United States, the United Kingdom, and Australia who specialize in plus-size boudoir photography. Each brings their unique style and approach to the table, ensuring that you can find the perfect match for your vision. Ready to take the plunge? Don't forget to read our guide on what to wear for your boudoir shoot to make sure you're fully prepared to shine. Your curves are beautiful, and it's time they got the spotlight they deserve!
How to Choose Your Plus-Size Boudoir Wardrobe
Ah, the eternal dilemma: What to wear? Wardrobe choices can make or break a boudoir session. We're talking lace, leather, or nothing at all—you pick your poison. In plus-size boudoir photography, it's crucial to opt for outfits that not only make you feel like the goddess you are but also enhance your natural beauty and curves. No, we're not talking about masking or hiding your body; we're talking about flaunting it, unapologetically. Forget those body-shaming norms. What you want to aim for are garments that complement your shape and capture the essence of your personality. Are you the daring dominatrix or the ethereal beauty draped in silk? Either way, wardrobe choices should be a reflection of you. For a detailed look at boudoir outfit choices, head on over to our What to Wear guide.
Plus-Size Boudoir Photography Ideas That Sizzle
Let's talk about setting the stage. After all, the backdrop and accessories can be as pivotal as the poses and outfits. Have you considered a vintage theme with antique furniture and sepia tones? Or what about an outdoor session amidst the natural beauty of a forest? The ideas are endless! If you're interested in a more specialized session, there are plenty of photography ideas for plus size individuals that are anything but cookie-cutter. Imagine a plus-size boudoir nude shoot in an artsy loft with soft lighting. Or picture a holiday-inspired setting for those cheeky plus-size Christmas boudoir photo ideas. Your setting can dramatically impact the vibe of your shoot. For more tailored ideas, swing by our DIY Boudoir Photography Ideas page.
Vintage Glam: Think retro vibes, sepia filters.
Nature Goddess: Forest, beach, you name it.
Holiday Chic: From Halloween to Christmas, make it a seasonal affair.
DIY: The Lowdown on Taking Plus-Size Boudoir Photos with Your Phone
Believe it or not, you don't always need a high-end camera and a professional photographer to create beautiful boudoir photos. If you're more of a DIYer or perhaps a bit budget-conscious, the good news is that smartphone cameras have come a long way. Yep, you can take DIY boudoir photos with your phone, and yes, they can look stunning. For plus-size individuals, this provides an opportunity to experiment with angles, poses, and settings on your own terms. Try out a variety of plus-size boudoir poses to find out what highlights your best features. Play with lighting to achieve different moods. Even better, you can test plus-size boudoir photography techniques before your professional shoot to have a better idea of what works for you. You can even dip your toes into the world of plus-size male boudoir photography or plus-size couples boudoir photography. Curious about making this a reality? Hop on to our page on DIY Boudoir Photos with Phone to get the lowdown.
Curating Your Plus-Size Boudoir Experience: From Consultation to Reveal
Okay, so you've got the poses, the photographer, and even the wardrobe down. Now what? It's time to think about the whole shebang—the experience. The consultation, the shoot itself, and the big reveal afterwards. If you're investing in professional plus-size boudoir photography, you want to get the most out of it, right?
The Consultation: Laying Down the Blueprint
This is where dreams start to take shape. Your initial consultation with your plus-size boudoir photographer is crucial. You'll discuss your vision, your fears, your must-haves and your absolutely-nots. Got specific plus-size boudoir photo ideas? Bring 'em up. Worried about how to handle those natural jitters during the shoot? Your photographer should be able to guide you. The consultation is not just for the photographer; it's for you to get comfortable with the process, voice any concerns, and set expectations.
Vision Board: Visual aids can help get your point across.
Discuss Fears: Transparency leads to better end results.
Set Expectations: Discuss logistics, budgets, and timelines.
If you're still in the market for a photographer, consider the tips we provide on our photographer near you page to help you find your match.
The Day of the Shoot: It's Showtime!
On D-day, you're the star. Arrive early, and take a few moments to breathe and get comfortable with the space. Most photographers will have your outfits and makeup pre-decided based on the consultation. You'll likely start with easier plus-size boudoir poses to ease into the mood before getting into the more complex or daring ones. If you're doing a full-figure boudoir shoot, for example, the guidance your photographer provides will be invaluable. They'll know just how to highlight your assets, ensuring the photographs are tasteful yet sizzling. Keep an open line of communication throughout the shoot. If something feels uncomfortable, speak up. You should never feel pressured into a pose or an outfit.
Day of the Shoot Checklist
| Item | Why It's Important |
| --- | --- |
| Arrive Early | More time to get comfortable |
| Easy Poses First | Warm up to the camera |
| Open Communication | Keep it comfy and consensual |
The Reveal: Your Beauty, Captured
Here it is—the moment you've been waiting for. Most photographers will have a reveal session, where you can see the fruits of your labor. This can be a profoundly emotional experience. For many, seeing their own plus-size boudoir photos can be empowering. Take in how stunning you look, how confident you appear. Choose your favorites, discuss any edits, and decide how you want these photos displayed, whether in an album or as individual prints.
Emotional Preparedness: It can be overwhelming to see yourself in a new light.
Choice & Edits: Pick your faves, request tweaks.
Display Options: Album, digital, framed prints? You decide.
Need more info on what comes after the shoot? Our planning your shoot page has got you covered.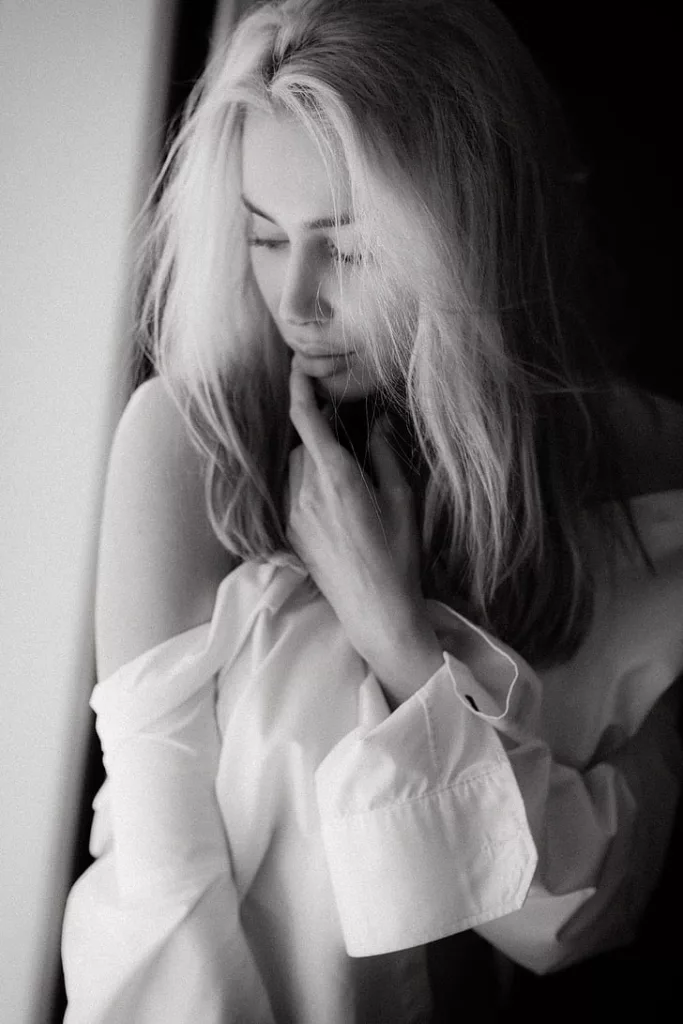 Breaking Taboos: Let's Talk Plus-Size Nude Boudoir and Couples Shoots
Alright, brace yourselves. We're going into territory some folks consider hush-hush. I'm talking about plus-size nude boudoir and couples boudoir sessions. Yeah, it's time to break some taboos and shift some paradigms. Are you with me?
Plus-Size Nude Boudoir: To Bare or Not to Bare?
Here's the deal—nude boudoir isn't everyone's cup of tea. And that's totally fine. But if you're looking to embrace your body in its most natural state, a plus-size nude boudoir session can be incredibly liberating. Think about it: what's more authentic than shedding all layers, both metaphorically and literally? You're not just exposing your body; you're exposing your vulnerability. A skilled photographer can turn that vulnerability into art.If you're curious about how to get comfortable with nude posing, or want to understand the nuances between nude and boudoir, visit our enlightening guide on Nude Photography Posing.
Skilled Photographer: A must for capturing nude art.
Vulnerability: The essence of your shoot.
Your Comfort: The most important factor.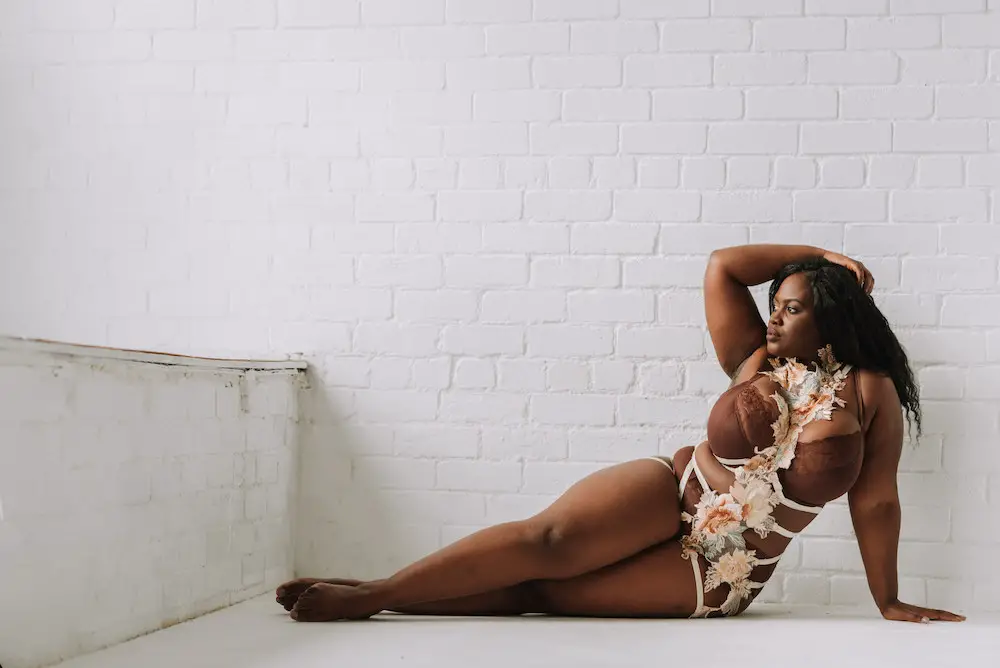 Plus-Size Couples Boudoir: Double the Fun, Double the Love
The only thing better than a killer boudoir session is sharing it with someone you love. Plus-size couples boudoir photography is like a power-up in a video game. It's you, it's your partner, it's your combined energy captured in still form. Whether it's playful, sensual, or downright steamy, couples boudoir amplifies the experience. And don't think for a second that it's any less suitable for plus-size couples; it's a celebration of love, regardless of size or shape.For inspiration on what a couples session could look like, or if you're wondering about photographers that specialize in couples, make sure to stop by our Couples Boudoir Near Me section.
Potential Themes for Couples Boudoir
| Theme | Description |
| --- | --- |
| Playful | Tickling, laughing, pure joy. |
| Sensual | Close-ups, gazes, the language of touch. |
| Steamy | Let's just say, not for the family album. |
Blending Both Worlds: Plus-Size Nude Couples Boudoir
Can you do both? Absolutely, why not? Imagine the intimacy and raw emotion of a couples session mixed with the freedom of a nude boudoir shoot. If both you and your partner are up for it, this can be one of the most intimate experiences you share. However, as always, consent and comfort are key. Make sure both parties are 100% in.
Mutual Consent: Both should be comfortable with the idea.
Shared Intimacy: A unique bonding experience.
Skilled Photographer: Especially crucial here for capturing nuanced emotions.
Behind the Lens: Photographer Tips for Capturing Stunning Plus-Size Boudoir Shots
So you're not just here for the glitz and glam, eh? Want to know the secret sauce that goes into making your plus-size boudoir shoot a masterwork? Buckle up, we're peeling back the curtain to reveal what photographers have up their sleeves to make you look and feel phenomenal.
Setting the Mood: The Photographer's Toolkit
When you walk into a studio for your boudoir session, you're walking into a finely-tuned atmosphere designed to bring out the best in you. Mood lighting? Check. Comfortable temperature? Check. Maybe even a playlist that sets the tone for the shoot. But the mood isn't just set by the physical space; it's also about the photographer's approach. They're not just clicking away randomly; they're employing specific plus-size boudoir photography techniques.
| Tool | Purpose | Why It's Important |
| --- | --- | --- |
| Lighting | Sets the ambiance | Can accentuate features, create drama |
| Lens Choices | Different perspectives | Affects how your body appears in photos |
| Posing Techniques | Create flattering angles | Helps you feel and look confident |
| Backdrops | Add or remove focus | Either highlights you or adds context |
Curious about how photographers choose their equipment? Take a peek at our comprehensive Business Guide for a detailed breakdown.
The Posing Game: Strategies for Plus-Size Boudoir Poses
Posing can make or break a photo. What feels natural might not always look great on camera, and what looks amazing might feel super awkward. This is why photographers use a range of plus-size boudoir posing strategies, from traditional to experimental. By mixing and matching poses, they bring out your dynamism, your energy, and yes, your sensuality.
Proven Plus-Size Boudoir Poses
| Pose | Description | Level of Difficulty | Best For |
| --- | --- | --- | --- |
| Reclining | Lying back elegantly | Easy | Full-body shots |
| Over-the-Shoulder | Looking back at the camera | Medium | Showcasing curves |
| Sitting | On a chair, bed, or prop | Easy to Medium | Versatility |
| Standing | Various stances | Medium to Hard | Confidence-boosting |
If you're hungry for more in-depth insights into poses, you might find our pillar page on Boudoir Poses absolutely enlightening.
Photographers Speak: Expert Tips for Plus-Size Boudoir
Photographers have their little secrets, the nuggets of wisdom they've gathered from years in the field. Many of these insights apply broadly, but some are particularly beneficial for plus-size boudoir photography.
Angles, Angles, Angles: Experiment to find the most flattering perspectives.
Mirror Work: Practice poses in front of a mirror beforehand.
Guided Imagery: Sometimes, imagining a mood or story can help bring a pose to life.
Texture Play: Utilize materials like lace or silk to add depth and intrigue.
Understanding the Costs of Plus-Size Boudoir Photography
Money talks, right? While the experience is priceless, knowing how much you'll need to invest in a plus-size boudoir session helps you plan and set expectations. But, as with any specialized service, costs can vary wildly. From the photographer's expertise to the length of your session, several factors contribute to the final bill. Let's dig into the numbers and clear the mist.
Factors Influencing Plus-Size Boudoir Photography Costs
Why does one photographer charge $500 and another $2,000? Well, you're not just paying for a couple of snaps. You're investing in an experience—hair and makeup, consultation, editing, and sometimes even props or outfits. Each of these elements impacts the cost.
Key Cost Influencers
| Factor | Details | Possible Costs |
| --- | --- | --- |
| Photographer's Expertise | Years of experience, specialization | $$$ – $$$$ |
| Session Length | Hourly vs. fixed packages | $$ – $$$ |
| Location | Studio, hotel, or your place | $ – $$ |
| Additional Services | Makeup, hair, props | $$ – $$$ |
| Editing | Number of photos, complexity | $$ – $$$ |
For more details on boudoir photography costs, feel free to check out our extensive guide on How Much is a Boudoir Photo Shoot?.
Price vs. Value: What Are You Really Getting?
Sometimes we equate expensive with good. Not always the case! Ask yourself what you're looking for in a plus-size boudoir photo shoot. Is it a high-fashion editorial vibe, or maybe a casual, raw atmosphere? Knowing what you want helps you measure the value you're getting for the price.
High-Fashion Vibe: Expect to pay more for high-end editing and exclusive locations.
Casual, Raw Feel: Could be less expensive but equally captivating.
Middle of the Road: A blend of both, with reasonable pricing and excellent output.
Saving Tips: How to Get the Most Bang for Your Buck
A boudoir session is a luxury, but that doesn't mean you can't be smart about how you spend your hard-earned money. Here are some strategies to help you save without skimping on the experience.
Early Booking: Sometimes discounts are available for booking well in advance.
Off-Peak Hours: Consider weekdays or non-holiday periods.
Packages: Many photographers offer bundled services at a reduced cost.
Friend Referrals: Got a friend who's interested? Referral discounts are a thing.
DIY or Die Trying: Navigating the World of DIY Plus-Size Boudoir Photography
Hey, you savvy renegade! So, you're thinking about taking the plunge into DIY plus-size boudoir photography? We admire the chutzpah. Really, we do! In a world that often keeps plus-size narratives in the shadows, embracing DIY allows you to control the spotlight, literally. But before you jump right in, let's get you set up for success, shall we?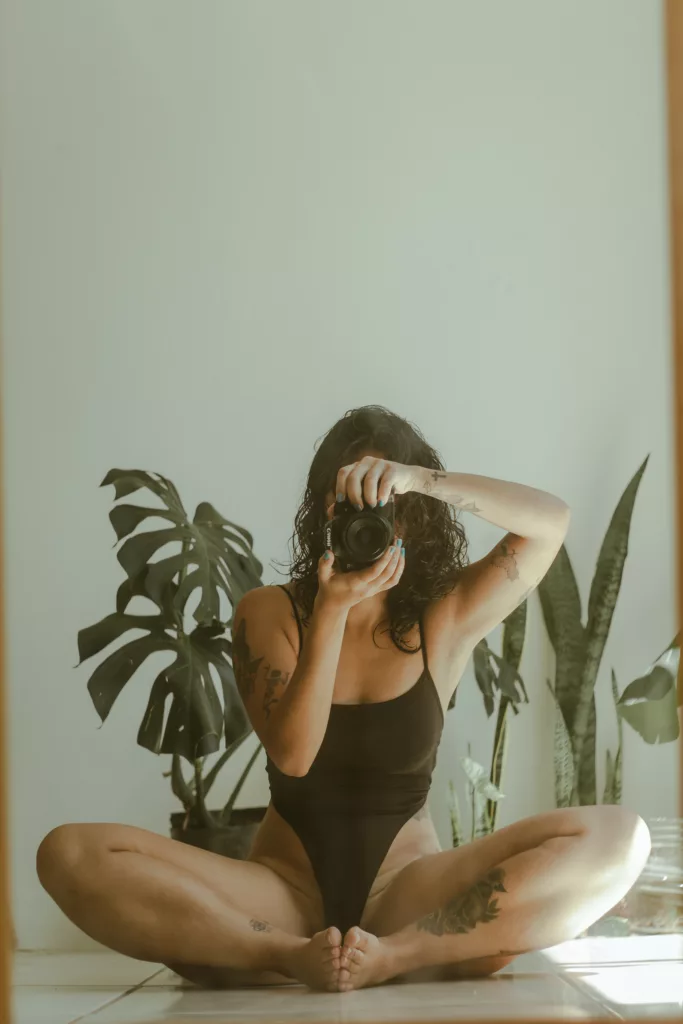 The DIY Toolkit: What You'll Need
First, let's talk gear. The good news? You don't need to go on a shopping spree at a photography store to make this work. Here's the lowdown:Camera
Smartphone: The latest models offer great quality. However, a tripod is a must for stability.
DSLR: If you own one, now's the time to dust it off. Get acquainted with the settings beforehand.
Tripod
Invest in a sturdy one with adjustable height and angles. Trust us, it's worth every penny.
Lighting
Natural Light: Think big windows and sunny afternoons.
Artificial Light: Softbox lighting kits work wonders.
Remote Control or Self-Timer
A remote control is handy, but most smartphones have a self-timer feature too.
Props
Think pillows, bedsheets, lace, chairs—whatever floats your boat!
| Essential Gear | Why You Need It | Alternatives |
| --- | --- | --- |
| Camera | For the actual shooting, duh! | None, really. |
| Tripod | Stability and hands-free operation | A stable piece of furniture |
| Lighting | To enhance features and set mood | Table lamps, LED lights |
| Remote Control | For capturing shots without racing against time | Use the self-timer on your camera |
| Props | To add depth and context to the photos | DIY with household items |
Finding the Right Pose: DIY Plus-Size Boudoir Posing Tips
Aaah, poses! The bread and butter of any boudoir shoot. Your body is your canvas, and how you position it can dramatically alter the vibe of the photo. When it comes to plus-size boudoir poses, there are endless possibilities to explore.
1. The Reclining Goddess: Lay down on a bed or couch, extending one leg while bending the other. Rest your head on one arm, and let the other roam freely. Think relaxed but regal.
2. The Sultry Sit: Find a chair. Sit on the edge, lean slightly forward, and arch your back. Cross your legs or let one leg extend out while the other remains grounded. Perfect for a sassy and sultry vibe.
3. The Bold Stand: Stand tall and confident. Place one hand on your hip and let the other hang naturally. Make sure to arch your back slightly to accentuate your curves.
4. The Mirror Magic: Mirrors can be your best friend. Capture your reflection while you flaunt your best angles. This adds a unique depth to the photo.Hungry for more? Head over to our in-depth guide on Boudoir Poses to spice up your pose repertoire.
Let's Get Snappy: Actual Steps to Take Your Own Photos
It's showtime! You're all dolled up, your DIY studio looks glam, and you've practiced your poses in the mirror. What next?
Step 1: Set Up Your Space Position your lighting and props to create the atmosphere you want. Remember, lighting can make or break a photo.
Step 2: Frame It Place your camera on the tripod and adjust the height and angle. Use the camera's viewfinder or your phone's display to frame your shot.
Step 3: Test Shots Before going all in, take a few test shots. Adjust the focus, angle, and lighting as needed.
Step 4: Get in Position Assume your chosen pose. Use a remote or set the timer, then strike a pose!
Step 5: Review Check the results. Like what you see? Great! If not, tweak the settings and try again.
Step 6: Rinse and Repeat Switch up the poses, adjust the lighting, or even change outfits. Variety is the spice of life!
Step 7: Post-Processing Some light editing can enhance your photos dramatically. Whether it's a filter or slight retouching, a little goes a long way.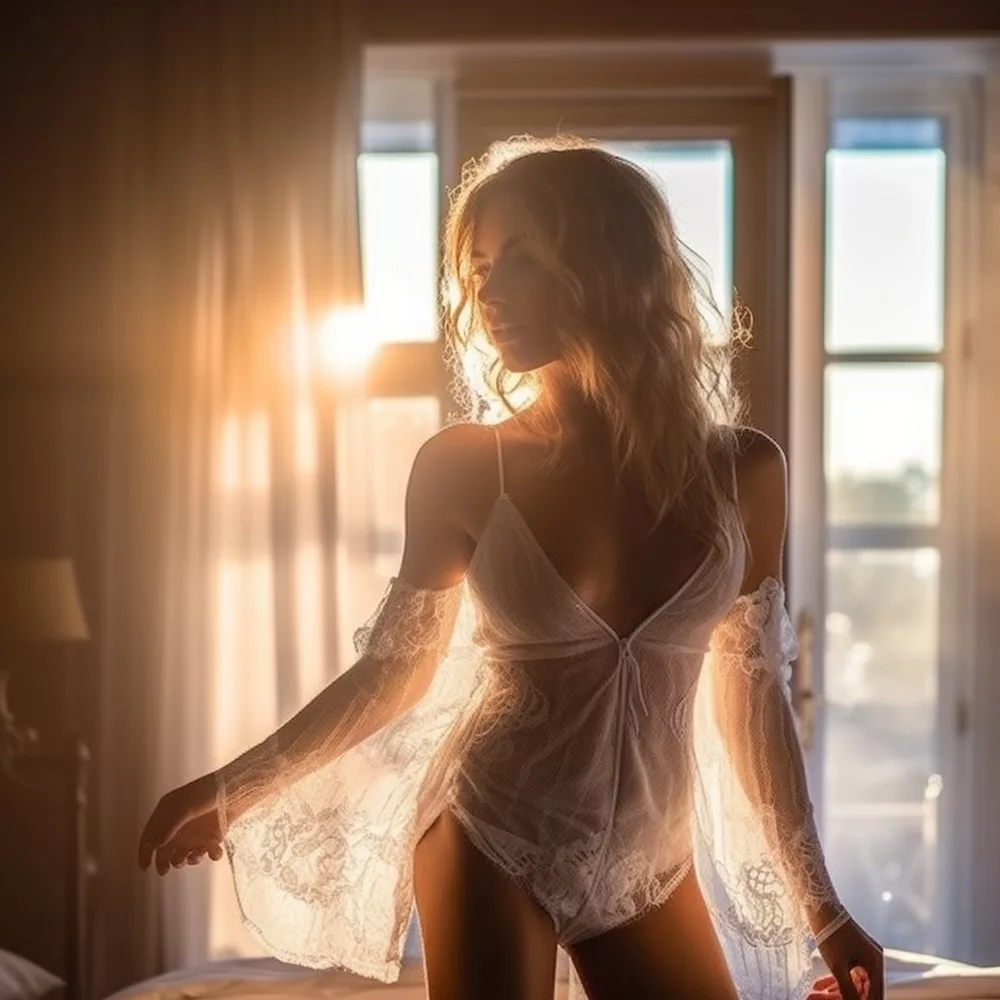 A Step-by-Step Recap
Space Prep: Get the ambiance right.
Frame and Focus: Your camera's ready, are you?
Test: Always do a trial run.
Pose: Channel your inner diva.
Review: Got it? If not, tweak and try again.
Variety: Change it up!
Final Touches: A dash of editing magic.
| Step | Task | Tools Required | Time Needed |
| --- | --- | --- | --- |
| Space Prep | Set up lighting & props | Lighting kit, Props | 20-30 mins |
| Frame & Focus | Position camera | Tripod, Camera | 5-10 mins |
| Test | Test shots | Camera | 5 mins |
| Pose | Actual shooting | You, Remote Control | Varies |
| Review | Check photos | Camera, Your Eyes | 5 mins |
| Variety | Change poses/outfits | New Outfits, Props | Varies |
| Final Touches | Editing | Editing Software | 20-30 mins |
Phew! That's a lot, but a well-planned DIY shoot is totally worth the effort. Whether you're creating these photos as a gift or a treat for yourself, each snapshot captures a slice of your beautiful, confident, plus-size self. Take a breather and step back to admire your masterpiece. Because guess what? You just nailed your DIY plus-size boudoir photo shoot. High five to that! 🙌
For more expert advice, don't forget to check out our DIY Boudoir Photography Ideas for additional inspo.So, there it is—your DIY bible for plus-size boudoir photography. Who needs a studio when your charisma can fill a room? Happy snapping! 📸
Wrapping It Up: Your Journey into Plus-Size Boudoir Photography
Alright, you've navigated the scenic routes and the nitty-gritty alleys of plus-size boudoir photography. It's been a ride, hasn't it? Whether you're considering investing in a luxurious, professionally curated experience or daring to go the DIY route, one thing's clear: boudoir photography is more than just pictures; it's a celebration of you. And let's face it, you're awesome. So, as we wrap up, let's highlight the major takeaways.
Key Takeaways: A Cheat Sheet for Your Boudoir Adventure
Remember, it's not a one-size-fits-all game. The experience is as diverse as we are, so here are some things you absolutely need to keep in your back pocket:
Choosing Your Photographer: Look for experience, but also someone whose style speaks to you.
Cost vs. Value: Expensive doesn't always mean better. Assess what you're getting for the price you're paying.
DIY Territory: Totally doable if you're up for a fun challenge. Make sure your toolkit is ready!
For more comprehensive planning tips, take a pit stop at our Planning Your Shoot page to ensure you're prepped and ready to go.
---
And there you have it, our starter pack to embarking on your own plus-size boudoir photography journey. Whether you opt for the full professional experience or take the DIY route, you're bound to end up with photos that celebrate you, in all your fabulous, plus-size glory. So what are you waiting for? Get out there and capture your essence!