Find What to Wear for a Boudoir Photo Shoot
In the intimate world of boudoir photography, the right attire plays a pivotal role in capturing the desired mood, sentiment, and tone. Each piece should not only make the subject feel beautiful, powerful, and confident but also reflect their personal style. Here's a guide to selecting the perfect outfit for a boudoir session.
---
Dressing for Boudoir: A Table Guide to the Perfect Shoot
| Body Part | Classic Attire | Contemporary/Alternative Attire | Tips & Notes |
| --- | --- | --- | --- |
| Head | Soft, natural makeup with a bold lip shade. | A bold eyeshadow or statement accessory like a headband or fascinator. | Highlight facial features while staying true to your comfort level. |
| Neck | Pearl necklace or choker. | Lacy choker or no jewelry. | Neckpieces can elongate the neck or bring attention to the collarbone. |
| Torso | Corset or lace bra. | Bralette or bandeau. | Choose pieces that highlight your assets and make you feel confident. |
| Waist & Hips | High-waisted underwear or garter belts. | Hipster lace underwear or bodysuits. | Think about the silhouette you'd like to project; curves, sleek lines, etc. |
| Legs | Stockings with lace tops. | Bare with body shimmer or thigh-high socks. | Consider what makes you feel most powerful – bare skin or a hint of mystery. |
| Feet | Heels or classic pumps. | Barefoot with foot jewelry or ankle boots. | Choose footwear that complements your outfit and boosts your confidence. |
| Accessories & Props | Silky robe, feather fan, long gloves, and vintage hand mirror. | Eye mask or blindfold. | Props can add depth to your shoot, setting a mood or telling a story. |
General Tips:
Always prioritize comfort; it translates to confidence in photos.
Consider the shoot's theme – romantic, edgy, vintage – and choose attire that aligns.
Discuss with your photographer; they might have outfit suggestions or props that work well with their shooting style.
---
Before diving into outfit choices, it's essential to understand the ambiance you wish to create. Do you aim for a classic, timeless look, a daring and edgy vibe, or a gentle, soft, and romantic atmosphere? Your clothing choices should echo the desired mood.
---
Lingerie Essentials
Bra and Panty Sets: Always a classic, they're versatile and can be both sultry and sweet. Choose from lace boudoir attire, silk, or even cotton, depending on comfort and the look you're aiming for. If it's a wedding boudoir shoot, you can add a veil or wear your dress very very low.
Bodysuits: These are incredibly popular in modern boudoir photography. They can flatter many body types and can range from playful to seductive.
Corsets and Bustiers: For a vintage flair, corsets cinch the waist and create an hourglass silhouette boudoir photo, while bustiers offer a more romantic vibe.
Robes: They can be used to introduce a soft, dreamy look or an element of mystery.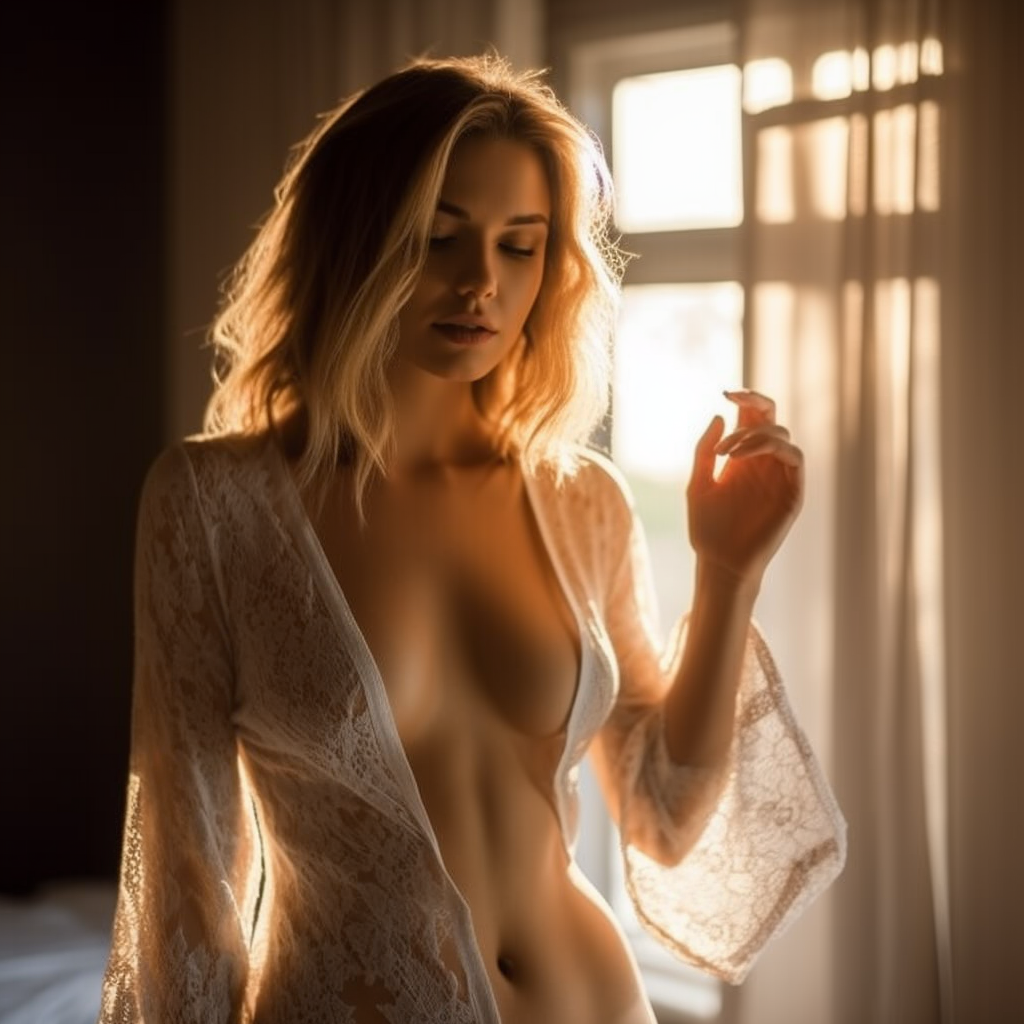 ---
Non-Lingerie Outfits
Remember, boudoir doesn't strictly mean lingerie.
Oversized Sweaters or Shirts: These can evoke a cozy, relaxed atmosphere.
Your Partner's Shirt or Jacket: This adds a personal touch, especially if it's a couple's boudoir shoot.
Simple White Sheet: Believe it or not, a draped white sheet can be incredibly sensual and evocative.
---
Accessorize
Heels: They elongate the legs and add an element of glamour.
Jewelry: Statement pieces or delicate items can elevate the overall look.
Stockings and Garters: These add a touch of classic boudoir elegance.
---
Mind the Details
Fit: Ensure your outfits fit well. Ill-fitting clothes can be distracting and might not translate well in photos. Also consider the boudoir posing that you might be working on.
Freshness: New or well-maintained attire without visible wear will photograph best.
Comfort: It's vital to feel at ease in what you're wearing. Comfort translates to confidence, and that will shine through in your photos.
Here is a quick video on some ideas for the aesthetic you're going for:
---
That's a Wrap
Your boudoir session is a celebration of you. While these suggestions serve as a guideline, the most important thing is to wear what makes you feel beautiful, empowered, and authentically you. It's all about capturing your essence and the intimate, raw, and real moments that define you.
---
Remember: Always collaborate with your photographer. They can provide insights tailored to your body type, the shoot location, and the lighting conditions, ensuring you look and feel your best.
Sources:
Wikipedia What to Wear for Boudoir Photography: https://commons.wikimedia.org/wiki/File:Boudoir_attire_what_to_wear.png