The Boudoir Blueprint: 10 Steps to Preparing for the Perfect Shoot
In the vast cityscape of modern boudoir photography, you cant help but wonder… Is the success of a photo shoot determined by the talent behind the camera, or the preparation before the click? Below you will find some thoughts and ideas to consider when planning a boudoir photo shoot.
Here Are Steps for Planning a Boudoir Shoot:

| Step No. | Step | Description |
| --- | --- | --- |
| 1. | Concept & Inspiration | Dive into ideation, create mood boards, and gather inspirations. |
| 2. | Choosing a Photographer | Research and select a boudoir photographer near you who aligns with your vision and who you feel comfortable with. |
| 3. | Location Scouting | Find the perfect backdrop, indoors or outdoors. |
| 4. | Wardrobe & Styling | Choose outfits and styles that fit your shoot's theme. |
| 5. | Props & Accessories | Pick items that complement and enhance your photos. |
| 6. | Hair & Makeup | Decide on looks that photograph well; consider professionals. |
| 7. | Lighting Basics | Understand and select the right lighting for your shoot. |
| 8. | Modeling & Posing | Learn to pose naturally and find your best angles. |
| 9. | Technical Prep | Dive into camera settings, lens choices, and equipment. |
| 10. | Post-Shoot Steps | Focus on photo selection, post-processing, and using your images. |
Concept & Inspiration
Just as we seek inspiration for that perfect pair of shoes or the ultimate Friday night outfit, capturing the essence of a boudoir photo shoot begins with a spark, an idea. Dive into mood boards. Get lost in the sea of Pinterest, or let a vintage magazine whisk you away (one with the initials V.S. might have some inspiration ;-). It's about finding that mood, that vibe which speaks to your very soul.
Here is a good video that goes over finding and organizing your inspiration:
Photographers are like those potential dates you swipe left or right on: some catch your eye, others don't. But once you find the one whose style makes your heart skip a beat, well, that's a match. Do your homework, honey. Vet them, understand their style, ensure they align with your vision and budget. Set up some time to meet with them for coffee. Show them some examples of photos and style that you like. Get a feel for how comfortable you are with them. If this meeting goes well and you still feel that excitement… it's time to keep going.
Location Scouting
The right backdrop is like the perfect accessory – it ties everything together. Whether it's a chic indoor studio echoing old Hollywood, a lush outdoor setting reminiscent of a secret garden, a small cabin-type feel, or a minimal ultra modern apartment, location sets the mood. You can keep it simple and use your own home or apartment. Or the photographer might have some spaces they can rent or recommend. Perhaps you rent a place for the day, and spend the evening conducting the shoot. Get creative!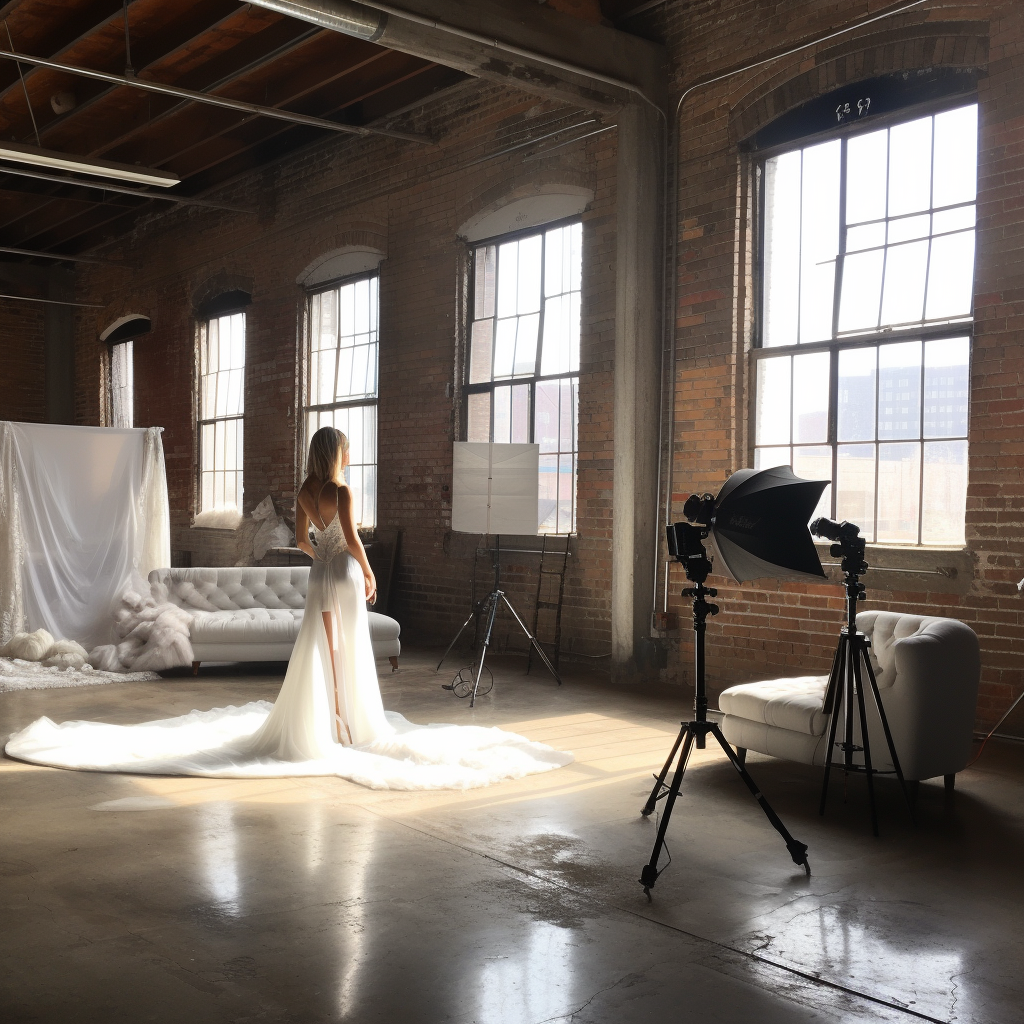 It's not about the most expensive dress or the trendiest outfit. It's about wearing your "story". Color palettes, textures, and layers – they narrate and set the mood. Select pieces that speak, that amplify the theme of your shoot. Lace boudoir is a classic. Or maybe it's just one of your significant other's shirts. If it's for a bridal boudoir shoot, you can get extravagant or keep it simple to a white sheet and a veil. For men's boudoir ( dudoir 🙂 ) you might go with jeans, or silk, or leather. Have fun with your boudoir attire and remember to ask your photographer if they have garments you can use.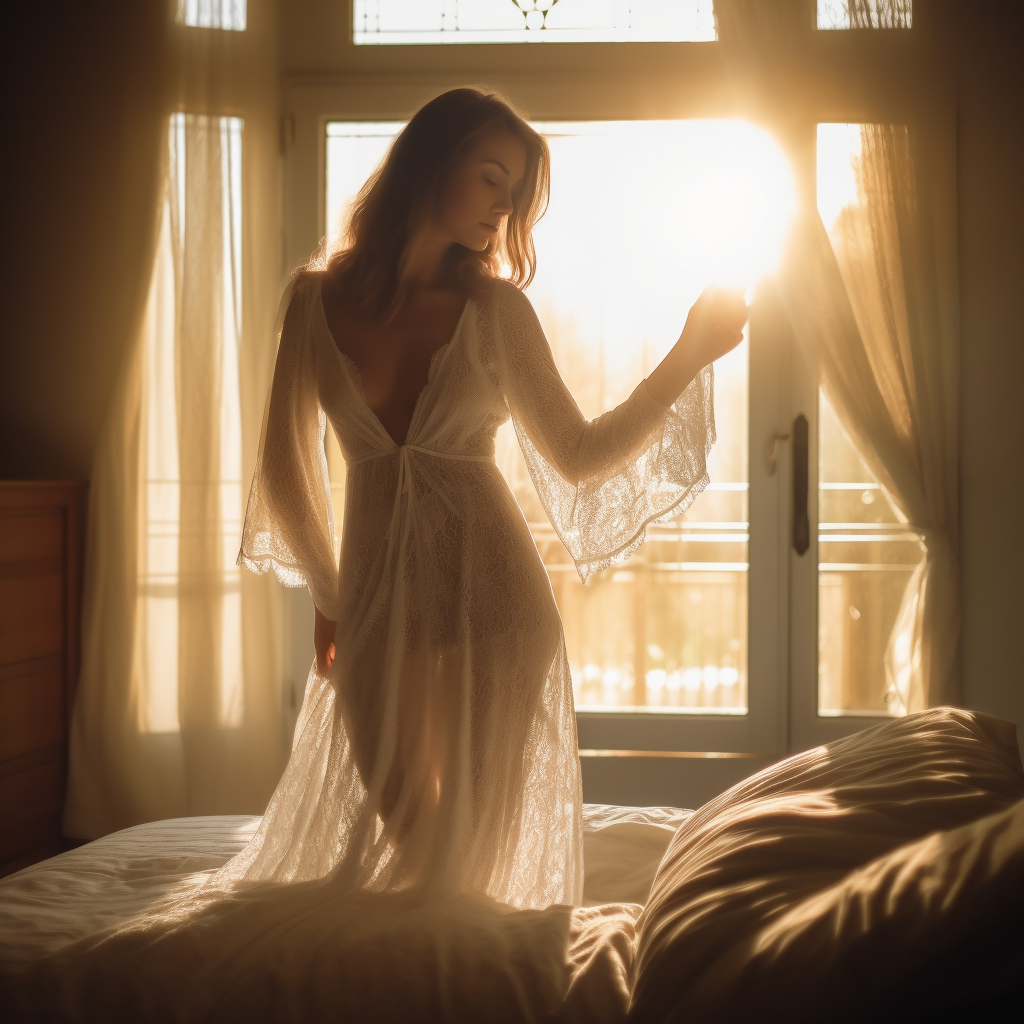 Props & Accessories
Props can be the statement necklace of your shoot – that little something that gives a whole lot of oomph. Whether it's a vintage mirror, a mysterious key, or a playful parasol, find those objects that elevate your narrative. Think about foreground interest — items that can be in front of you and out of focus, that guide the viewers eye to you and add depth to the image. A string of lights can add beautiful bokeh (blurred details), or some sheer or woven fabrics can be draped nearby.
Boudoir Hair & Makeup
Now, who doesn't appreciate a good hair day or that makeup that's just right? Think of looks that make you feel radiant, looks that play well with the camera's flirtatious eye. Whether you're into DIY or professional artists, ensure it complements your story's tone. Some love to keep it simple, with light makeup and a pop of color on the lips. Others might want to go all-out. Consider your concept and remember you might change it mid shoot as the story unfolds.
Lighting Basics
The dance of shadows and light, much like the intricate steps of romance, can make or break a moment. Discover the allure of natural sunlight or the drama of studio lighting. After all, light tells secrets, and in photography, you want to listen. If you are familiar with the space, spend a few afternoons and evenings watching where the light hits walls, and how it comes into the rooms. Lena Aires is a master of finding natural light filtering in through a window — to highlight specific parts of the body and it's curves.
Modeling & Posing
Whether you're the star of the show or directing it, angles matter. They're like those little moments in life – some are straightforward, some are complex, and some are best captured candidly. Of course magazines might have some good examples, but also consider going back in time. Look at the works of old painters, observe the poses the models are in. Some poses may feel very comfortable, and some will feel awesomely awkward but create great results. In the digital age of photography, you can afford to experiment more. So find your angles, embrace them, and let them shine.
Technical Prep
The "techy" stuff needs a bit of attention. Camera settings, lens choices, equipment – it's not just about how they look, but what they deliver. Some people enjoy the idea of a DIY boudoir photography shoot. If you don't have much experience with photography, there are countless quick tips for new photographers. From a technical side, you could search for portrait photography. But high tech is not always necessary. Some amazing results can be made with a 1960s film camera and some Portra or Ilford film.
Post-Shoot Steps
Like the end of a whirlwind love affair, the end of a shoot doesn't mean it's over. Dive into photo selection, dabble in post-processing, and cherish the memories you've captured. If you're expecting to get the photos from your photographer, it might take a couple of weeks for them to add their style to them. So if you arent under a time crunch, the patience can pay off. Also, once you receive some back, if specific photos are your favorites then let the photographer know. You can ask for an upscaled hi-res image, or for a few other small adjustments that will make the photo an amazing one to print. For printing, there are several great places. One world renowned one is Bay Photo Lab in Santa Cruz, California. They have tons of options for printing, professionals to help you, and ship them to you. Boudoir photography looks great on your computer or phone, but it is truly something special when it becomes a physical piece.
In the intricate dance of photography, "The Boudoir's Blueprint" is your go-to guide, your partner in crime. With this guide, you're set to create not just pictures, but memories that echo stories. Because in the end, aren't we all just looking for a picture-perfect moment in a world full of candid chaos? Get going and have fun!